The 9 best Thailand beaches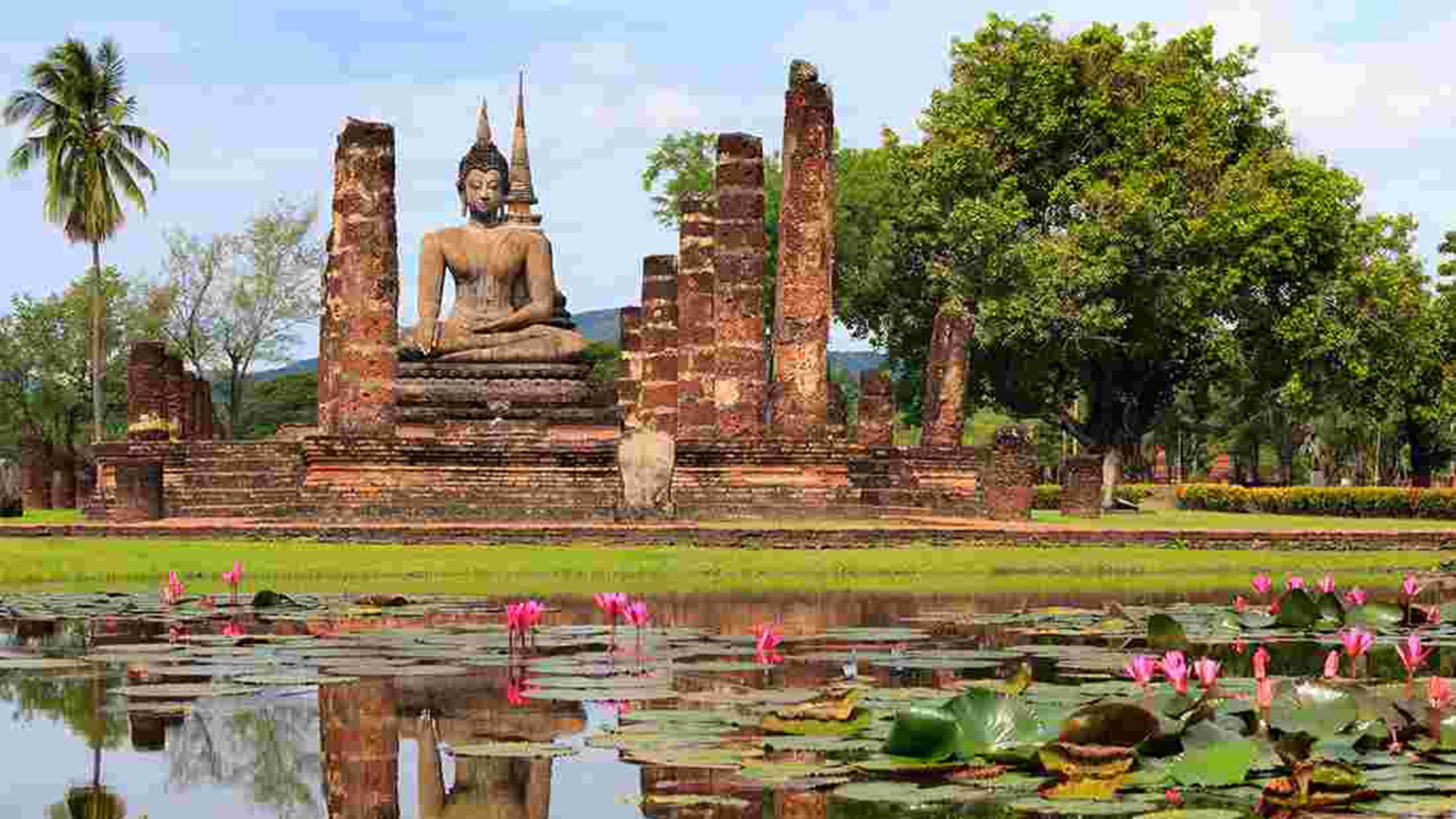 Thailand beaches are famous: expect sun-drenched sugary white sands and waters in a thousand shades of blue.
Saying that water lovers are spoiled for choice when it comes to Thailand beaches is an understatement. Beaches of every definition are found in this tropical country (visiting them all is a can't-miss thing to do here), from secluded stretches with only the most basic amenities to bar-lined party destinations crowded with spirited revellers. But wherever you lay your towel, expect sun-drenched sugary white sands and waters in a thousand shades of blue—and a bottle of cold cheap beer.
After a day spent under the sun, you'll want to embrace the local nightlife scene… or pass out in a comfy bed at one of the best hotels in town.
Railay Beach
Where is it? Krabi
What is it? One of the most stunning beaches in Thailand, located between the city of Krabi and Ao Nang.
Why go? Railay Beach tops every list and there's an obvious reason for it: it's beautiful, plain and simple. Hemmed in by craggy limestone cliffs and surrounded by dense rainforest, Railay is accessible only by longtail boat. While many come for a day trip to snorkel its crystal-clear waters, jump from its cliffs or explore the peninsula's many hidden coves, a few opt to stay the night. The beach offers a handful of accommodation ranging from basic bungalows to sprawling luxury resorts.
Tha Pho Beach
Where is it? Koh Kood
What is it? An ethereal oasis on one of Thailand's most remote resort islands.
Why go? The white-sand stretch maintains a sense of isolation with only a smattering of homestays and budget hotels, as well as a handful of luxury resorts. As one of the smaller islands in Thailand, Koh Kood clings to its slow-paced, dreamy vibe, a world away from the noisy resorts of the country's more renowned beach destinations. But while the shores of Tha Pho Beach are quiet, its tranquil turquoise waters are home to a thriving underwater ecosystem where sea turtles, stingrays, barracudas and reef inhabitants co-exist.
Chaweng Beach
Where is it? Koh Samui
What is it? The ideal spot to pitch up and party.
Why go? Many tourists have cottoned on to this spectacular stretch in Koh Samui, but we couldn't discuss Thailand beaches without mentioning it. The high-end resorts in the northern part of Chaweng Beach offer idyllic spots to take a breather and enjoy a spa holiday, but if you'd rather spend your time at the beach soaking up the sun with a cocktail and then partying 'til dawn, there's also plenty of opportunities to do just that. The entire length of Chaweng Beach is packed with beachfront bars that come alive during happy hour and only get rowdier as the evening wears on. Check out the famous Ark Bar, known for its amazing barbecue, fresh seafood dishes and pumping soundtrack.
Kata Noi
Where is it? Phuket
What is it? An oasis of calm compared to the lively neighbouring Kata Beach.
Why go? Kata Noi offers silky soft sand backed by a hillside road lined with sunset bars and small shacks selling cold Singha and good food. Riders will find a decent spot for surfing in the northern end of the beach, while snorkelers will do well to make for the rocky headlands at either end of the bay. Idlers, meanwhile, can choose to stay dry in the middle of the stretch where they can rent a lounger for the day and bask in the warm tropical sun.
White Sand Beach
Where is it? Koh Chang
What is it? A deliciously scenic beach with a vibrant nightlife scene.
Why go? The sand is soft, the palm trees sway and the water is warm. Sunset sees beach bums and backpackers settling into happy hour with dreadlocked rasta musicians and party people. As the night deepens, the beach comes alive with candle-lit tables, fire dancers and thumping sounds from clubs that stay open until the last stragglers stumble out. Tourism and development have long crept up on this part of Koh Chang (the third largest island in Thailand) but due to the island's national park status, there are no tall buildings that impede the island's scenic views.
Laem Thong Beach
Where is it? Koh Phi Phi
What is it? The island's most secluded and exclusive beach.
Why go? Whether bathed in the pastel shades of the sunrise, the brilliant light of daytime or the silver of moonlight, this flour-white-sand-blessed stretch in Koh Phi Phi is breathtaking 24 hours a day. Laem Tong is accessible only by longtail boat or a private speedboat that drops guests off at one of the few high-end resorts that line the strip. The thriving reefs just off the beach and in the neighbouring islands are home to rich marine life, and makes an ideal snorkelling or diving outing for newbies and the more experienced.
Sai Kaew Beach
Where is it? Koh Samet
What is it? A jaw-dropping combo of soft white sands of and up-tempo nightlife, just a few hours from Bangkok.
Why go? Sai Kaew Beach is the ideal destination for a quick weekend getaway. Effortlessly fusing the lazy (morning walks, afternoon naps, massages on the sand) with the lively (every kind of water activity imaginable, all-night parties on the beach), Sai Kaew lures beachgoers whose sole holiday objective is to indulge, whether on nearly year-round sun, relatively good food or cheap alcohol. And relax.
Sunset Beach
Where is it? Koh Lipe
What is it? A quiet beach known for its bohemian atmosphere and, as its name suggests, spectacular sunsets.
Why go? Surrounded by large boulders that jut out of the sand and water, Sunset Beach in Koh Lipe (a small island near the Thailand/Malaysia border) is still relatively secluded. This 'secret' spot, with its soft-as-sifted-flour sand, cyan skies and Tiffany-blue waters will appeal to those who want to let the silence in and experience a sense of timelessness. Except for a few bungalows and driftwood-built restaurants, development is limited to sun loungers scattered on the beach and vendors selling cold drinks.
Thong Nai Pan Noi Beach
Where is it? Koh Phangan
What is it? A sandy cove in the northernmost part of the island.
Why go? Koh Phangan is known for its wild full moon parties. If that's what you're looking for, then Thong Nai Pan Noi is not the place to go. This beach welcomes New Age hippie types, laidback bodyboarders, honeymooners and tourists looking for a slower pace of life (although those who prefer activity will find a diving school and jet-skis for hire). There are no off-shore reefs in its gin-clear waters, but velvet-like sand runs continuously into deep water at all tides, making the area great for swimming or just splashing around.