Now that's Thailicious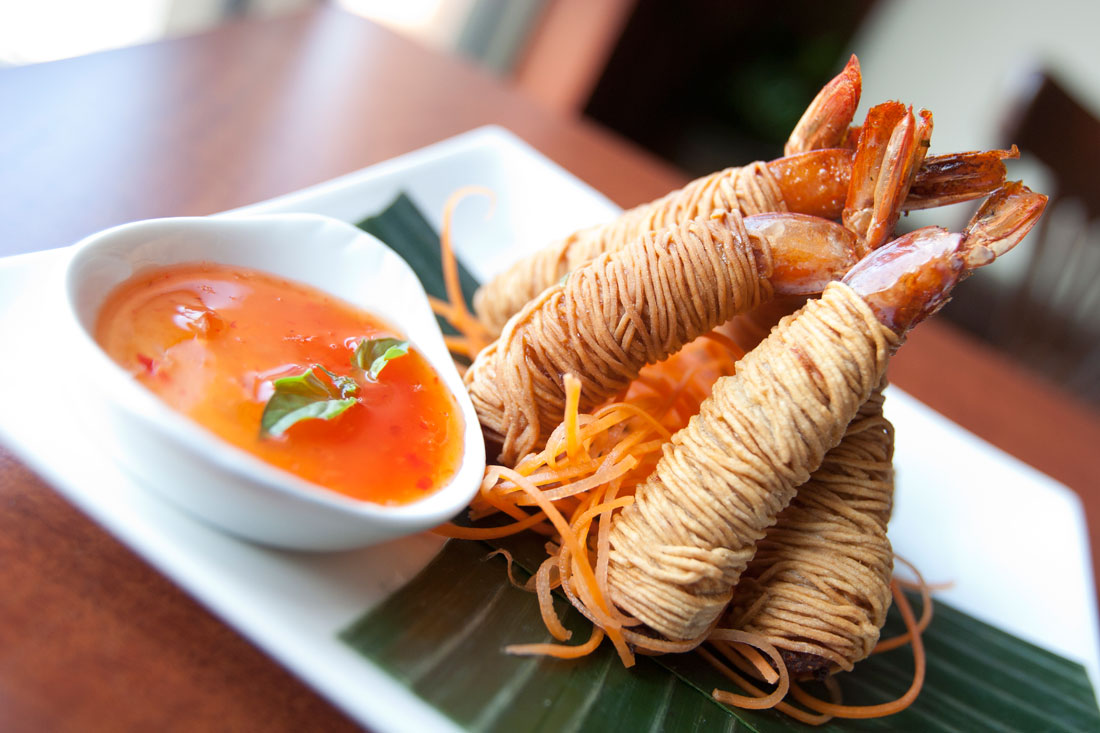 Although the new Thailicious restaurant sits, theoretically, at the southwest corner of Hulen Street and I-30, it's barely visible from either busy thoroughfare: The eatery is wedged between a bank and a yogurt shop at the back of a crowded shopping center. The dining area inside is small and spare, and it fills up quickly at lunch hour. Try to visit when you aren't feeling rushed, because the rich and intricate flavors are worth lingering over.
Our meal started with an appetizer of the sweet corn cakes. Too often they arrive as room-temperature, slightly chewy golden discs studded with corn kernels, but Thailicious' versions were hot and had a brown, crispy exterior with a tender core of moist breading and bright yellow kernels. They were delicious but so large that just one of them nearly filled us up.
Among the traditional Thai salads, the larb, offered with either chicken or beef, proved to be superior. The version we chose consisted of lean ground chicken mixed with slices of savory red onion, fiery pepper, chopped chives, and a lime vinaigrette that was a mouth-watering citrus tease. Served on a thin bed of iceburg lettuce with prickly sprigs of cilantro layered on top, it was stellar, but, again, the portion was more than generous for one eater.
RevolverDFY_HopDevice_2019_300x250
All curries at Thailicious can be ordered with any of five levels of spice heat. We chose Level 4 for the green curry with chicken — which turned out to be too spicy for me and not spicy enough for my friend, who happens to be an aficionado of extreme curry. Still, we both agreed the fat eggplant wedges, lean tender chicken chunks, crisp bamboo shoots, and bell pepper slices were a terrific mix in the basil-heavy, coconut milk-based sauce.
The hands-down winner of our lunch excursion, however, was the excellent pad see ew with pork, a flat rice-noodle dish that was sheer heaven –– thick and satiny in a lightly sweet black bean sauce with tender broccoli florets, small and hearty scraps of scrambled egg, crisp bean sprouts, and tender lean pork slices. This was the kind of luxurious comfort dish that could cure a hangover or even soothe a broken heart.
Thailicious is poised to become a Westside favorite for great authentic Thai cuisine –– if you can find the place.
Thailicious
4601 W Fwy, Ste 206, FW. 817-737-8111.
11am-9pm Sun, 11am-9:30pm Mon-Thu, 11am-10pm Fri-Sat. All major credit cards accepted.
Sweet corn cakes……….. $7.50
Larb…………………………… $9.50
Green curry w/chicken. $12.00
Pad see ew w/pork……… $10.50